Product review by Nico Lother.
Open the sachet and the delicious coconut scent fills your nose. One half with 100ml water and the other half with 125ml low-fat milk in the handshaker can start the test.
There are many whey tests, as well as manufacturers, tastes and differences in price, quality and composition. The now tested 100% Pure Whey, from the still rather unknown manufacturer IHS Technology – Iron Horse SeriesThat much can already be revealed, in terms of quality, taste and composition points and stands out. Only the price is higher than the usual, due to the quality and composition Whey concentrate.
To the ingredients (9/10)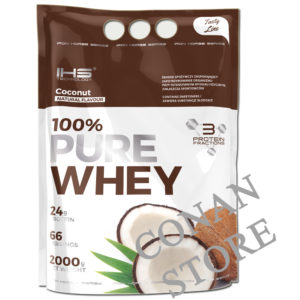 Are included 3 Whey Fraktionen. Besides the known Whey concentrate und Isolat also contains hydrolyzate. At Whey Hydrolysat it is enzymatically split and, so to speak, predigested whey that "goes into the blood" almost immediately. In addition to the whey components mentioned, it also contains thickeners (guar gum, xanthan gum), completely harmless sweeteners (sodium saccharin, sucralose) and, in the case of coconut, coconut flavor. Nothing more is needed and shouldn't be included.
It would be nice if the percentage distribution of the 3 whey components were given. It is only possible to determine what is the most (concentrate) and what is the least (hydrolyzate) based on the sequence of the ingredients. Therefore there is a point deduction.
The nutritional values ​​(8.5 / 10)
We have 403 kcal per 100g, which is made up of 6.65 g fat, 8.0 g carbohydrates and 80.0 g protein. These are absolutely top and realistic nutritional values ​​for a whey with such a good taste. There are products with "better" ratings, but they can't even come close to holding a candle in terms of taste. Per 30g shake you get 24g protein, 2g fat and 2.5g carbohydrates.
The amino acid profile (10/10)
No evidence of aminospiking can be found here. A good natural amino profile, which is even shown on the sample packs and on the side. The 100% Pure Whey from IHS Technology.
The taste (10/10) and the solubility (10/10)
As already indicated at the beginning, a delicious and natural coconut scent flows towards the nose when the packaging is opened. The imprint is already confirmed here "Natural Flavour". Time to taste whether the "Tasty Line" is rightly printed.
I prepared one half (15g) with 100ml water and the other half with 125ml milk in the handshaker and also drank from this. That's how you do it, after all, and don't put that stuff in the glass.
In both preparations, the powder dissolves perfectly and without lumps.
The taste in water (the one tested first) was already convincing. Slightly creamy, of course like coconut, not artificial, not too sweet, simply delicious. That gives hope for the preparation in milk, since whey prepared in milk usually tastes even better.
Milk in the shaker, powder afterwards, shaked briefly and off to the mouth. Wow. Really wow. Rafaelo milkshake immediately came to mind. Extremely tasty, slightly creamy, but not so creamy that it crams, zero artificial and, above all, not too sweet. This is the whey variety for summer.
Quality (9/10) and price (7/10)
Der erste Eindruck konnte hier gehalten werden und IHS Technology continues to establish itself with the high quality of its products. The certifications according to GMP, ISO 9001, HACCP and GHP speak for this again. The product is also tested for substances relevant to doping and is guaranteed to be free of them. The Cologne list would still be desirable for professional athletes as the ultimate security, but for me it is completely overrated. Why should you mix doping-relevant substances into a whey?
Conclusion (9/10)
IHS Technology hat hier ein extrem leckeres Whey Produkt mit einer tollen Geschmacksauswahl (ALMOND, APPLE CAKE, CHOCOLATE, COCONUT, COOKIES & CREAM, FRUIT PUNCH, STRAWBEERY, TIRAMISU, VANILLA) und vorbildlichen Inhaltsstoffen im Sortiment.
The price of just under € 15 for 500g (€ 30 / kg) and € 50 for 2000g (€ 25 / kg) seems a bit high at first glance, but you shouldn't forget that you don't only have concentrate and obviously a lot high quality flavors are used.
As a "daily whey" and for baking it would be a bit too expensive for me, but as a pleasure in between it will definitely take a permanent place on the shelf.
---