Ammirato Valeria - CV
Name: Admired Valeria
Geburtsdatum: 23.05.1986
Place of birth: Cologne
Resident: Neuburg an der Donau
Profession: hairdresser
Active: 01/2011; Competitions since April 2011
Size: 160 cm
Off-season Weight: 51 kg
Competition weight: 46 kg
Bankdrücken: 65kg x 5 Wdh.
---

---
Ammirato Valeria - Achievements
2011
IFBB - Bavarian Championship 2011 - 1st place
IFBB - German Championship 2011 - 1st place
Amateur Arnolds Classic 2011 – Platz 5
IFBB World Championship Women 2011 - 6th place
2012
Amateur Bikini Olympia 2012 - 1st place
2014
Nordic Pro 2014 - 11th place
---
Admired Valeria - Interview (06.2011)
Question: How did you get into sport? How long have you been training yet?
Ammirato Valeria: I've actually always done sports, from dancing to boxing…. I started strength training a few years ago and then found the right thing with it ... and now my greatest passion.
I have been training in a gym for 3-4 years, but only really for championships since 2010.
Question: How do you train, what is your diet like? A couple of examples, please?
Ammirato Valeria: I train 5-6 times a week (volume training) Fewer reps. More weight… ..
Monday: Beine
Tuesday: Back / triceps
Wednesday: Shoulder / stomach
Thursday: Beine
Friday: Cardio
Saturday: Pause
Sunday: Chest / biceps
Nutrition: in the diet 100g carbohydrates per day and 700g protein, vegetables as much as I like… .5 liters of water per day.
Question: Are there differences between your off-season training and the preparation for a competition?
Ammirato Valeria: Yes, I am currently in my first off-season.
What I have now changed is that the leg training is now training more for volume,
that means a few reps, but more weight.
In the competition phase, I did it the other way around….
Now will try to put on a little more muscle mass for my next competitions ...
Question: How do you see your future? Would you like to switch to the fitness class or do you stay in the bikini class? When will we see you on stage again?
Ammirato Valeria: I see myself on stage in my future and will really work very hard. I hope that I can achieve more, it is difficult to plan, but I wish so much.
I will stay in the bikini class for now, but who knows, maybe switch to the figure class later ...
In 4 weeks my preparations will start again and this time the plan is to start internationally.
My next two competitions: Arnold's Classic Amateur 2011 in Madrid in October and also in October the 2011 Women's World Cup in Serbia.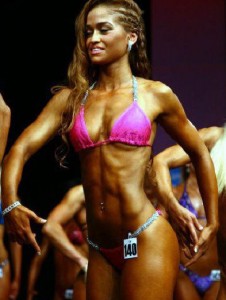 Question: Who are your idols, who motivates you to diet and train hard?
Ammirato Valeria: Awa Cowan has always been my idol in this field.
She made me get started with it right. I happened to see a video of her on the internet and was immediately impressed by her great body and her great charisma.
I am always my own motivation, I always say if you have something in your heart and you want it so badly, then you don't need anyone other than yourself ..
Question: What would you recommend to women if they want to look like Valeria Ammirato?
Ammirato Valeria: Put a goal in mind and don't just train as you please ... Train hard for this goal and then pull it off.
I am like I always need goals, a life without goals, would be too boring for me, if I have achieved one goal, I'll look for the next one right away.
And if I haven't reached a goal, I try again and give 100% until I reach it.
I am of the opinion that everything you want with all your heart can be achieved ... !!
Thanks Valeria for the interview.
---

---