Product review by Nico Lother.
IHS TECHNOLOGY IRON HORSE SERIES 100% pure whey in chocolate, better than any cocoa!
Whey Protein Every vendor who sells whey has chocolate in their range. Unfortunately, this often has very little to do with chocolate. Most of the time it tastes like cocoa. Different with the one I tested 100% Pure Whey, from the still rather unknown manufacturer IHS Technology. The coconut flavor could already score points in quality, taste and composition and stand out.
About the ingredients (9/10):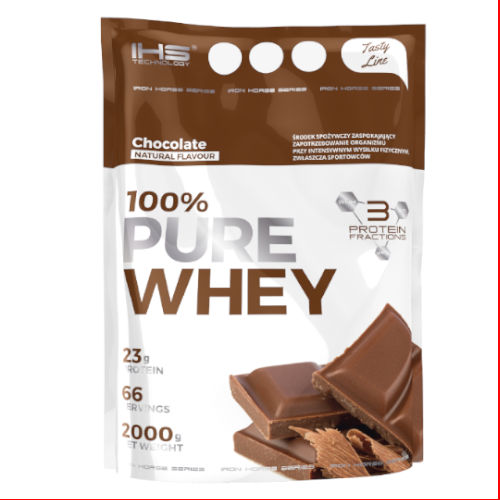 Chocolate also contains 3 whey fractions. Besides the known Whey concentrate und Isolat ist auch Whey Hydrolysat contain. Whey hydrolyzate is enzymatically split and, so to speak, predigested whey that "goes into the blood" almost immediately. In addition to the whey components mentioned, it also contains thickeners (guar gum, xanthan gum), completely harmless sweeteners (sodium saccharin, sucralose) and, in the case of chocolate, chocolate flavor. Nothing more is needed and shouldn't be included. It would be even better if the percentage distribution of the 3 whey components were given. It is only possible to determine what is the most (concentrate) and what is the least (hydrolyzate) based on the sequence of the ingredients. Therefore there is a point deduction.
---
---
The nutritional values ​​(8.5 / 10):
This time we only have 391 kcal per 100 g, which is made up of 6.65 g fat, 5.0 g carbohydrates and 78.0 g Eiweiß put together. These are absolutely top and realistic nutritional values ​​for a whey with such a good taste. There may be products with "better" values, but they can't even come close to holding a candle in terms of taste. Per 30g shake you get 23.4g protein, 2g fat and 1.5g carbohydrates.
---
IRON HORSE SERIES - PURE WHEY - NUTRITIONAL VALUES:
| composition | pro Portion 30 g | pro 100 g | |
| --- | --- | --- | --- |
| Energy value | 121 kcal | 403 kcal | |
| Fette | 1,99 g | 6,65 g | |
| Including saturated fat | 1,44 g | 4,80 g | |
| carbohydrates | 2,40 g | 8,00 g | |
| Including simple sugar | 0,15 g | 0,50 g | |
| Eiweiß | 24,00 g | 80,00 g | |
| Faser | 0,21 g | 0,70 g | |
| sodium | 0,06 g | 0,20 g | |
---
The amino acid profile (10/10):
No evidence of aminospiking can be found here. A good natural amino profile, which is even shown on the sample packs and on the side. The 100% Pure Whey from IHS Technology also scores here.
---
Amino acid profile
amino acid
pro 100 g Produkt
Alanin
3,76 g
Arginine
2,88 g
Asparaginsäure
8,8 g
Cystein
1,44 g
Glutamic acid
13,52 g
Glycin
1,6 g
Histidinee
1,52 g
Isoleucin
4,4 g
Leucine
9,84 g
Lysin
7,52 g
Methionine
1,76 g
Phenylalanine
2,8 g
Prolin
4,08 g
Serin
4,4 g
Threonine
4,16 g
Tryptophan
2,32 g
Tyrosinee
3,04 g
Valin
4,08 g
---
The taste (10/10) and the solubility (10/10):
Chocolate, yes that tastes like chocolate. Here again the term "natural flavor" is part of the program. It tastes really nice like chocolate and not like a 15 cent water-based chocolate pudding.
Here, too, I prepared half (15g) with 100ml water and the other half with 125ml milk in the handshaker and also drank from it. That's how you do it, after all, and don't put that stuff in the glass. The solubility is simply perfect. No lumps, no excessive foaming. The taste in water (the one tested first) can convince. Slightly creamy, natural chocolate note, not artificial, not too sweet, simply delicious.
So and now for preparation in milk
Chocolate Milkshake Deluxe. Who still needs the calorie bombs? Extremely tasty, slightly creamy, but not so creamy that it crams, zero artificial and, above all, not too sweet. The all-time classic chocolate can definitely convince! Here you don't just have a chocolate whey like it is sold 100 times, here you really have a chocolate shake that you can drink with pleasure.
---
Quality (9/10) and price (7/10):
Here, too, the high quality of the products from IHS Technology can be emphasized again. Certifications according to GMP, ISO 9001, HACCP and GHP, high-quality packaging with all imaginable information, as well as a test for doping-relevant substances and a guarantee of purity underline this.
Conclusion (9/10):
IHS Technology remains its motto
Treu: So lecker wie es nur geht bei top Nährwerten und dazu einer vielfältigen Geschmacksauswahl, die neben Klassikern auch die ein oder andere ausgefallenere Sorte beinhaltet (ALMOND, APPLE CAKE, CHOCOLATE, COCONUT, COOKIES & CREAM, FRUIT PUNCH, STRAWBEERY, TIRAMISU, VANILLA). Der Preis von knapp 15€ für 500g (30€/kg) und 50€ für 2000g (25€/kg) erscheint auf dem ersten Blick etwas hoch, jedoch darf man nicht außer acht lassen, dass man nicht nur Konzentrat hat und offensichtlich sehr hochwertige Aromen verwendet werden. Das kostet einfach! Wer auf Qualität und Genuss setzt, ist hier an der richtigen Adresse.