Skadi Frei-Seifert - CV

Surname, first name: Frei-Seifert, Skadi
Date of birth: 10.8.1976
Sternzeichen: Löwe
Körpergröße: 168cm
Marital status: firmly in a relationship
Occupation: Graduate sports scientist, federally certified fitness instructor, professional bodybuilder
My fitness studio: Friends Gym Kassel
Hobbies: my family, trips with my boyfriend, cars, motorcycles, movies / DVD
My competition preparer: Pit Trenz - Trainer and life partner
Favorite menu: pizza, ice cream
I've been active since: I've been doing strength training since I was 16
I've been competing since: 2004 I was on the BB stage for the first time
My sporting role models are: Sue Price, Lisa Aukland, Kris Murell
Motto in life: Never let other people determine the limits of your dreams!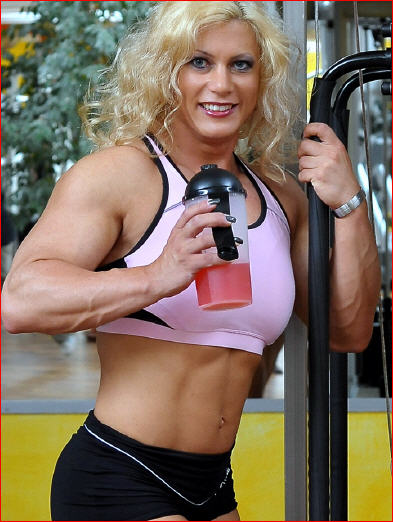 Maße und Gewichte
Competition weight: approx. 72kg
Off-Season-Gewicht: ca. 82kg
Arm: 41cm
Waist: 68cm
Chest: 115cm
Calves: 41cm
Oberschenkel: 63cm
Power supplies
Bench press: 100kg 6 times in a set
Squat: 140kg 6x in a set
Deadlift: 140kg 6 times in a set
Barbell rows bent forward: 100kg 8x in a set
Dumbbell row: 55kg 8x in a set
Dumbbell incline bench press: 45kg 6x in a set
Favorite recipe in preparation time: tartare with tomato sauce
---
Frei-Seifert Skadi - Success
2004
Intern. Swiss Championship 2004 Bodyfitness 1
Intern. South German Championship 2004 Bodyfitness 1
2006
World Championship 2006 Bodyfitness 7
2007
European Championship 2007 Bodyfitness 11
World Championship 2007 BB 55+ 7
2008
World Championship 2008 BB 55+ 4
2009
World Championship 2009 BB 55+ 4
Body-Xtreme Invitational 2009 BB 2
Grand Prize Hessen and RLP 2009 BB 55+ 1 u. total
Intern. German Championship 2009 BB 55+ 1 u. total
2010
Europa Battle of Champions 2010 – Platz 6
Tampa Pro 2010 – Platz 13
2011
FIBO POWER PRO CHAMPIONSHIPS 2011 – Platz 2
---
Skadi Frei-Seifer – Interview ( 06.2010 )
Q. How did you get into bodybuilding?
Frei-Seifert Skadi: In 2001 I had my daughter Xenia and so there was no more time for the very time-consuming cycling training and so there was only strength training left.
Since I was always looking for a challenge in a competition, I wanted the same in bodybuilding. With a well thought-out training and nutrition plan, but without significant support from a partner or trainer, the first competition in bodybuilding began. In 2004 I started at the International Swiss Championship IFBB and at the South German Championship IFBB in the figure class and promptly took first place at both championships. In addition, more for fun, I took part in bench press competitions and also became International Swiss Champion in the same year. Confirmed in my actions, I went to the international stage in 2006 and took part in the IFBB world championship in the body fitness class. I immediately achieved a respectable seventh place (there were more than 30 starters in this class).
When I started at the European Championships in the spring of the following year with my personal best form, however, I experienced a bitter disappointment: 11th place!
What happened? Clearly: I was too muscular. The move to the bodybuilding class was obvious and I accepted the challenge ...
Q: What motivates you to exercise, to diet?
Frei-Seifert Skadi: I think of the optimal interaction of training, nutrition and recovery. For me, bodybuilding is a way of life that deserves more tolerance.
The feminine presentation, a feminine posing and an appealing freestyle are, in my opinion, extremely important.
With the receipt of the Pro-Card, I now have the chance to turn my convictions and my philosophy of life into a profession. I also want to remain successful in the professional sector and act as a role model with my charisma and the way I handle everyday life, work and family. One of my goals is to pass on my knowledge, my experience and my enthusiasm to other people and to help them achieve their personal goals in the field of sport.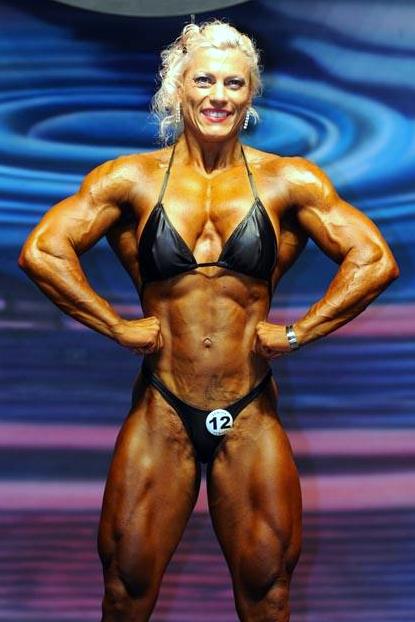 Q. What is your workout and diet like?
Frei-Seifert Skadi:
My competition nutrition:
My diet during the competition diet is deliberately kept simple: I eat 1000g of meat (chicken or tartare) throughout the day.
I reduce my carbohydrate intake from 200g rice cakes at the beginning of the diet to 50g rice cakes around 4 weeks before the competition.
I admit that this diet is quite one-sided. However, this enables us to react quickly and efficiently to any situation.
In addition, I pay close attention to the supplementation of amino acids, vitamins, minerals and trace elements.
My OFF SEASON DIET / DAY
During the off-season I make sure that my body is adequately supplied with proteins, around 3g per kg of body weight. The proportion of carbohydrates increases to about 200g in the form of rice, pasta and sometimes toast.
The supply of amino acids, vitamins, minerals and trace elements remains, albeit somewhat reduced.
For me, food is also a form of quality of life and I enjoy it e.g. to have an extensive breakfast at the weekend or to eat out with Pit. I also love ice cream in all variations ...
---
Q. You got a professional license, when will we see you on the professional stage?
Frei-Seifert Skadi: Several factors were decisive in the decision to switch to the Pro-League. First, with my placements at international championships, I meet the qualification requirements.
Second, I received consistently positive feedback on our stay in Las Vegas. Third is the collaboration of Pit Trenz mit Markus Rühl und Dennis Wolf of duration and thus the coordination of our competitions is much easier. Fourth, with the Pro Card I can fulfill my dream of competing with the best female bodybuilders in the world. However, this is only possible with the right partner by my side. I'm lucky to have found my soul mate in Pit Trenz. At this point, a big thank you to him! My first pro show is the PBW CHAMPIONSHIPS on July 16-17, 2010 in Tampa, FLORIDA. A week later I'll be at the EUROPA BATTLE OF CHAMPIONS, 23.-25. July 2010 Hartford, CONNECTICUT prove.
F.Seitdem du mit Pit Trenz training have you made great progress, what are you doing differently now than before?
Frei-Seifert Skadi: At Skadi and Pit the motto is: Train hard but smart!
Applying the known training principles and safety rules as well as adhering to biological, physiological and biomechanical principles. In particular, training according to the mostly misunderstood principle of periodization is an essential part of our training success.
In detail, this means the sensible combination of metabolic training, hypertrophy training and also maximum strength training, which includes inter- and intramuscular coordination training. Training in the various metabolic areas brings significant advantages for the development of qualitatively solid muscle mass.
Training is an integral part of our everyday life - I love moving heavy weights and love it even more, together with Pit Trenz, to push my physical limits every time during training.
However, I am convinced that something like this only works with the right partner at your side. Not only is Pit my main critic, he's THE man by my side.
Q. What is a professional bodybuilder's daily routine?
Frei-Seifert Skadi: Before breakfast I sit on the bicycle ergometer for half an hour and during this time I check my emails and answer them. After our morning shake made of protein, oatmeal and frozen fruits, PC work is back in order: creating promotions for our own line of supplements, forwarding online orders to shipping, answering questions about bodybuilding, maintaining s with business partners, etc. I then cook that Food for the day before and we are already going to Kassel for training in Friend's Gym. After the training we have our consultations or checkups with our athletes in the Trenzformer shop in Kassel. After the shop closes we go shopping together and hope for a quiet evening at home. Most of the time we also spend this time in front of the PC. I also have to maintain my own homepage (skadifrei.com) - post videos and photos and maintain with the fans. A big thank you to everyone who specifically supports the FBB!
Q. What would you recommend to women who want to look like you?
Frei-Seifert Skadi: Whether with or without competition ambitions, professional support is crucial. A certain amount of skepticism is required when choosing such a person. Unfortunately, there are a lot of self-appointed experts in our industry. Good advice on training, nutrition and competition requires a lot of education. I think Pit and I are doing a very good job on that point. Our strengths include my knowledge and experience from my sports science studies and my work with top athletes at the Institute for Applied Training Science in Leipzig. I also have a lot of experience from my own sports biography. Pit Trenz is unbeatable when it comes to training and competition experience in weight training and bodybuilding.
F. Your plans for 2010 and the future.
Frei-Seifert Skadi: I want to deliver a very good overall package on my first pro shows. My goal is to be on the competition stage in my personal best form. I will draw attention to myself with my personal combination of muscles and femininity. This then needs to be improved further in the future.
---
Frei-Seifert Skadi - Interview March 30, 2011
Bodybuilding-XXL: Hello Skadi, we'll see you on stage in 2 weeks at the FIBO POWER Pro Championships 2011. Are you satisfied with your form?
Skadi Frei-Seifert: With my current form, I have already topped the form from the last competition in Hartford. The weight, 74.5kg in the morning, and the skin fold (4 point measurement) of 14mm, serve Pit and me as reference points, but the mirror is always decisive.
I am always very critical myself, but the pictures from the photo shoot also convince me. This interplay of muscles, femininity and a little bit of sexiness is very close to our idea of ​​women's bodybuilding.
Bodybuilding XXL: What are you doing the last 14 days before the competition?
Skadi Frei-Seifert: The last two weeks have clearly been persistent. I've been on a diet since December and the last few days have been really difficult. But the now almost daily changes motivate you again and again. Now it's time to try the new posing bikinis, to practice posing and the posing routine every day.
However, I also organize the FIBO presentation of our company "Nutrition Technology by Pit Trenz". The athlete team must be put together
the sales goods and merchandising organized, the hotel rooms booked and our shop must also be kept running. The time to FIBO will certainly not be long for me. But I'm really looking forward to the competition and the FIBO Power!
* Bodybuilding XXL: You were the initiator of the bodybuilding competition for women.
How did you come up with the idea and what motivated you to invest so much work and time in the organization and financing.
Skadi Frei-Seifert: This is not entirely correct. I was just inquiring about the conditions for doing a professional women's bodybuilding class. When these were established, I called or wrote to any industry-related company. Unfortunately I only got rejections from everyone.
I finally got support from the following companies and people:
Nutrition Technology by Pit Trenz
Buchsteiner
Shirtstation
David Gym Zurich
MMA Spirit Frankfurt
Beat Geser (IFBB Athlet)
Raffi Molinari (IFBB Schweiz)
Stephan pazstor
FBBFan
At this point, a big thank you to these sponsors and also to Jens Thieme from the German side of the organization of the FIBO Power Pro!
Bodybuilding XXL: Women in bodybuilding are currently going through difficult times. What do you wish for, how should it go on with women bodybuilding?
Skadi Frei-Seifert: For the future of women's bodybuilding, I would like the jury to place more emphasis on femininity, presentation, feminine lines and symmetry. If these criteria are honored by the corresponding representatives of our sport, then this class will also be more attractive for the audience and the sponsor.
Bodybuilding XXL: Do you have any ambitions to have more competitions in Germany?
to organize? Maybe Trenzformer Classic 2012 ...
Skadi Frei-Seifert: An interesting thought. I hope, however, that this year's Pro Contest will be the beginning of a tradition here in Europe.
However, in the near future I will be more involved in establishing our "Nutrition Technology by Pit Trenz" product line. Furthermore, I will increasingly invest my knowledge, my experience and my enthusiasm for sport in the promotion of the next generation and for everyone who wants to achieve their personal best.
Bodybuilding-XXL: How do you see your chances at FIBO POWER PRO CHAMPIONSHIPS 2011?
Skadi Frei-Seifert: I am happy about the good line up of the starters and am proud to be part of this great show. I would like to thank all of the starters for their participation. I hope that my interpretation of women's bodybuilding will be well received by the jury and that with a top 3 placement I can fulfill my dream of participating in the MS Olympia election.
Bodybuilding-XXL: Thank you for the interview and wish you all the best for the competition.
---
Frei- Seifert Skadi - Training
My weekly training plan regeneration (2nd week after the competition for about 3 weeks)
MONTAG
Brust
Bench press and fly in superset 3 15
Incline bench press dumbbells 3 15
Butterfly machine 3 15
shoulder
Lateral raise machine 3 15
Front press machine 3 15
Trizeps
Triceps extension cable 3 15
Dipsmaschine 3 15
Bauch
WEDNESDAY
Bein
Beinstrecken 4 15
Squats 4 10
Leg press 2 15
Lying hamstrings 4 15
Lunge 3 15
Waden
Seated Calf Raises 3 15
Standing calf raises 3 15
FRIDAY
Rücken
Latzug Hammerstrenght 4 15
Standing barbell row 3 15
Rudermaschine 3 15
Hyperextensions 2 15
Deadlift 2 10
shoulder
Butterfly reverse 3 15
*** My weekly training plan structure ***
MONTAG
Brust
Incline bench press and fly in superset 3 10
Chest presses in the machine 4 10
Butterfly 4 10
Shoulders
Lateral raise in the machine 4 10
Shoulder presses in the machine 3 10
Row upright on cable 4 10
Bauch
TUESDAY
Rücken
Lat pulldown to chest 4 10
Rowing with support in the machine 3 10
Dumbbell Row 3 10
Lat pulldown reverse in the machine 4 10
Hyperextension 2 15
Deadlift 3 10
shoulder
Butterfly reverse 4 10
THURSDAY
Beine
Beinstrecker 4 10
Squats 4 10
Leg press 3 10
Lying hamstrings 3 10
Lunge 3 10
FRIDAY
Biceps / triceps
Standing dumbbell curls 4 10
Triceps extension on cable 4 10
Biceps curls on the machine 4 10
Dips on the machine 4 10
Waden

After 3 weeks we vary the exercises and also do maximum strength training. In the immediate preparation for the competition, we train 5 times a week and the cardio before breakfast or after the training is added.
---
already read..?
---